Lilies 2022 | June 17-26
War of the Lilies
THINGS TO DO
ACTIVITES
Come join us and experience the pagentry of medieval combat and archery, historic arts and crafts, fun parties!
32′ Viking Ship
FYRDRACA
The 32′ viking ship, the Fyrdraca, will be docked near the swimming beach and running as many voyages as weather & crew allow.
Friends and family of the Heartland, Greetings from your Lilies Event Stewards!

Please join us for Lilies War on June 17-26, 2022! At long last, we will gather to camp, sail the Fyrdraca, have contests of arms, sing, craft, dance, and most importantly join in jovial companionship on the lake's breezy shores! More information will be coming soon.

We can hardly wait to see you!
Kirk, Magnus, and Rhianwen

Armored Combat—Recruit Your Cohort!  Round Up Your Warband!
Archery—All Day, Every Day!
Cut & Thrust Combat!
Youth Activities—Your Kids Will Bring You Back!
A&S: Classes!  More Classes!  And Even More Classes!
Sail the Fyrdraca!
Parties, Fireworks, Swimming, and more fun than you can shake a stick at!
Merchants Galore!
Site opens at 3:00 p.m. on Friday, June 17.
Site closes at 12:00 noon on Sunday, June 26.
The intersection of High Road and King's Highway.
For those people dreading the long walk to the parking lot just to retrieve ice, good news!  Nearly half a mile has been cut from your round trip.  For those of you trying to get your steps in, our apologies.  May we suggest a walk down Long March road to the shade of Far Point instead?
Where is the Gate located?
What should I do if Gate is closed?
I'm hot. My knees hurt. I want to go into town to get ice cream, but the parking lot is too far.
Can I take my kids to the lake any time?
Their Royal Majesties Hirsch and Magdalena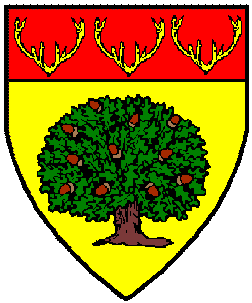 King of Calontir

Falcon-Crown@calontir.org
Queen of Calontir

Falcon-Crown@calontir.org